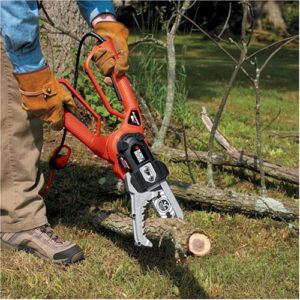 Executive Summary
Are you frustrated with your chainsaw or whatever you use to prune branches and bushes in your garden?
If so – then the LP1000 Alligator Lopper is what you need! This cleverly designed, non traditional chainsaw is absolutely ideal for homeowners who need to limb and
trim small trees and bushes but don't fancy having to use a traditional chainsaw or old fashioned clippers to get the job done.
And customers agree! At the time of writing, 81.5% of verified purchasers on Amazon gave it a 5 star rating, with a further 12% of verified purchasers giving it a 4 star rating. Thats a substantial vote of confidence!
Check current pricing discounts:


Read the rest of the Black & Decker LP1000 Alligator review:
Tale of the Tape
Dimensions: 9.4 x 25.5 x 8.1 inches (24 x 64 x 20 cm)
Weight: 6.5 pounds (2.9 kg)
Bar: 6 inches (15cm)
Power Source
(Back to Top)
The Alligator is powered by a 4,5 amp motor that is connected to your electricity supply.
As with most corded electrical chainsaws, the actual cord that is permanently attached
to the chainsaw is very short, so you will need a suitable outdoor extension cord as well.
(see here for more details on this subject)
If the thought of having to drag an extension cord along behind you does not thrill you, then
there are 2 battery operated versions of the lopper available that you might want to consider.
They are:(scroll down the linked page to find)
1) The Black & Decker NLP1800 Alligator Lopper 18-Volt Cordless Chain Saw and
2) Black & Decker LLP120 20-Volt Lithium-Ion Cordless Alligator
Chain Matters
(Back to Top)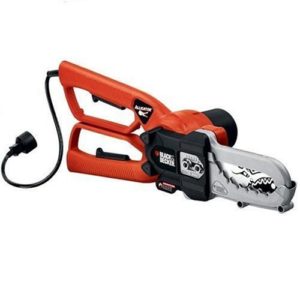 So although this is not your average chainsaw design, the LP1000 Alligator does have a chain and a bar.
And like any other chainsaw, the chain needs to be frequently lubricated – which is one of the few
factors that have irritated many of the users that have used this tool.
The oil bottle that B&D supplies for administering the oil to the chain through a small aperture is made of a grade of plastic so hard that most people find it impossible to squeeze the bottle at all. Given that the manual recommends doing this every 10 minutes, people are understandably a bit miffed about this aspect.
However, it is certainly not a deal breaker – simply replace the bottle with something a bit more giving in nature or a good old fashioned oil can with a small nozzle and the problem is solved.(One reviewer used a 5cc syringe – wothout needle – and found that perfect! Where there's a will, there's a way!)
An interesting side note on the oil to use – B&D recommend you use a vegetable based oil when pruning trees –
one presumes this is to prevent the trees being sprayed with a fine mist of petroleum based oil while cutting.
Some reviewers have complained about the chain being thrown off frequently. The manual does state quite clearly
that one needs to check the chain tension regularly to start with as the new chain will stretch with initial usage.
Given the overall high satisfaction of users with this tool, it's unlikely that this is an ongoing problem but rather the
experience of a few who have failed to keep the chain adequately tensioned in the initial phase of usage.
Capabilities
(Back to Top)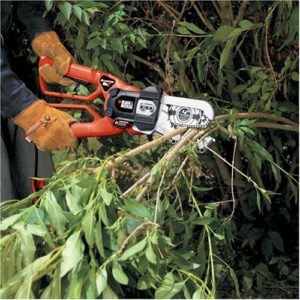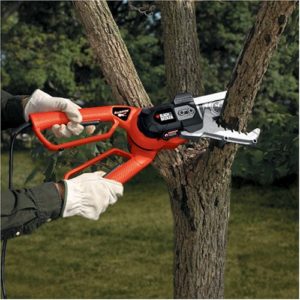 The unique design of the Lopper is what sets it apart from other chainsaws and makes it ideal for use around the garden.
The lopper's light weight, scissor action and enclosed bar and chain make it safe and easy to use, especially for those that are not used to working with chainsaws or are reluctant to use a chainsaw for safety reasons.
A big plus is this tool's ability to cut up branches lying on the ground without fouling the chain or having to pick them up and lean them against something to create space under the branch – saves time, sore backs, and chains!
Black and Decker stipulate that this tool is designed to cut branches up to 4 inches (10cm) in diameter. Almost without exception, users agree that it does this easily and efficiently. Some owners have used it to lop off branches of 6 plus inch diameters without problems.
However, given the tool's use of nylon gear segments, it's probably best to stick to the manufacturer's recommendations for optimal performance and longevity of the tool.
One aspect that the designers haven't sorted out is that during prolonged useage, many users report that cutting debris accumulates in the chain area and has to be cleaned out regularly, but is easily done. So again – a small inconvenience, not a deal breaker. So……to recap
Warranty & Manual
(Back to Top)
2 year limited warranty with all the normal stipulations – personal use only, original receipt etc etc
The manual is adequate but annoying. In this day and age is it too much to ask that the pictures and copy describing some aspect of the tool appear on the same page so one doesn't have to page back and forth to visualise what you are reading about??
Alas that is the situation with this manual. it's not the end of the world as the whole manual is only 13 pages with the diagrams on pgs 8 and 9 and most of the copy the diagrams illustrate occur on pgs 10 and 11.
Customer Reviews
At the time of writing there were 1109 reviews by verified purchasers, of which 675 (81.5%) gave the product a 5 star rating and a further 101 (12%) gave the product a 4 star rating.
Thus a total of 93.5% of verified purchasers were very, very happy with the Black & Decker LP1000 Alligator Lopper.
Thats a pretty solid vote of confidence!
Amazon Rating: 4.7
Pros & Cons
(Back to Top)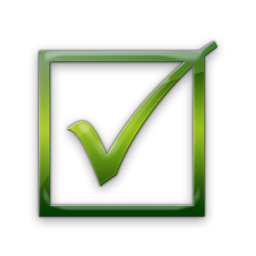 Pros:
Light weight
Safety
efficiency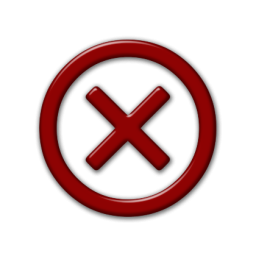 Cons:
Can't use as a standrd chainsaw
Debris accumulation in chain
Supplied oil bottle
BUY HERE:


See other electrical chainsaws for comparison here and a comparison with a manual pruner