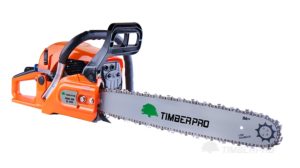 Executive Summary
This Timberpro chainsaw is a brilliantly priced, easy to start, powerful 62cc gas saw that doesn't stand back for any of the big name brands. Has to be shipped from the UK (UK buyers can get it from Amazon.co.uk here) and assembled but very snappy delivery times (3 days) and easy assembly (10 minutes) and starting means that these are not major factors when weighing up the pros and cons of this chainsaw. With a 20 inch bar, this chainsaw will easily cope with most homeowner's requirements.
Check current USA pricing discounts:


Read the rest of the TIMBERPRO 62cc 20″ Petrol Chainsaw review:
Tale of the Tape
Dimensions: 10.04 x 15.16 x 11.02 inches (25.5 x 38.5 x 28 cm)
Weight: 15.4 lbs (7kg)
Bar: 20 inches (50.8 cm)
Fuel Tank capacity: 550ml (18.6 fl.oz)
Chain Oil Capacity: 260ml (8.8 fl.oz)
Comes with a carry bag (not a very sturdy one!), blade guard, fuel mixing bottle and a basic toolkit
Power Source
(Back to Top)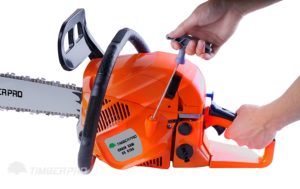 If there is one thing this TimberPro chainsaw impresses people with it is how easy it is to start and the sheer power that the 62cc gas (petrol) driven engine puts at your disposal.
So lets start with starting it! 🙂 lets be honest – probably one of the major complaints about gas powered chainsaws is that they can be an absolute pain to start – and that is true irrespective of make or brand.
Starting the TimberPro 62cc Chainsaw
One of the most common comments about this beast is how easy it is to start – and that right out of the box! The Assisted all alloy Starting Mechanism/System – read spring loaded starter – really makes it a breeze to start this chainsaw which is a major plus in a solid majority of users.
It does help to follow the instructions though – see the video below for details.
At 62cc this is towards the top end of the power units that Joe Average would need for general round the yard stuff and there is a small price to pay for the power on offer. The general feeling is that the fuel consumption is a tad on the high side but just about everyone is willing to forgive that for the power on tap and the price.
While starting is a breeze, one small negative is the location of the off switch – not ideally placed (see video above) but again – not a major deal and certainly not a deal breaker.
Chain Matters
(Back to Top)
This TimberPro features an automatic chain lubricator and a side mounted chain tensioner. As with the fuel consumption, the general feeling is that it is a bit heavy on chain oil but most people are happy to live with that given the power of the saw.
The saw comes with 2 chains which might be taken as an indicator of the quality of the chains. However, this would not seem to be the case with general opinion being that the supplied chain(s) are up to scratch and are more than adequate for most jobs.
Capabilities
(Back to Top)
Everyone raves about the power to weight ratio of this saw – and for many it just has no equal when you factor in the price.
Now remembering that this has a 20 inch (50.8cm) bar, then this saw can easily cope with some fairly large trees and/or logs.
Take a look at this demonstration:

Warranty & Manual
(Back to Top)
Two year warranty for home usage only.
There is a manual that is shipped with the saw plus a ton of Youtube videos that will help you with most queries.
Customer Reviews
At the time of writing there were 74 certified reviews of the TimberPro 62cc 20 inch chainsaw on Amazon, of which 84% were either 4 or 5 stars (out of a possible 5 stars). Given that a guestimated every 1 in 10 to 1 in 100 buyers actually take the time to write reviews, this means that there are a minimum of several hundred very satisfied users of this saw out there – a fairly compelling recommendation! 🙂
Amazon Rating: 4.6
Timberpro chainsaw Pros & Cons
(Back to Top)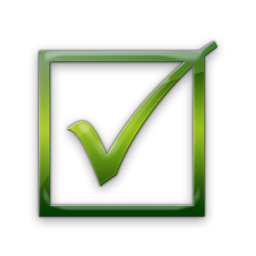 Pros:
Very competitively priced
Starts easily
Great power
Fast delivery from UK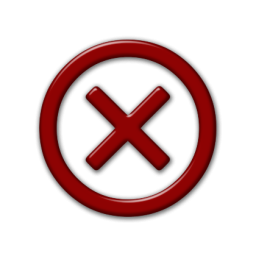 Cons:
Little heavy on fuel
Off switch location
Plastic bodywork
Shipped from UK – shipping costs?
BUY HERE: