Executive Summary
The Huqvarna 450 Chainsaw Review summary: This Huqvarna is a gas powered chainsaw with a lightweight frame and a range of features such as the Smart Start and tool-less chain tensioning mechanism that should make it user friendly for homeowners and do-it-yourselfers but……..
Starting the machine may be problematic due to design issues and not following the manuals instructions carefully (see more about this further down!)
Check current pricing discounts:


Dimensions + Weight
Dimensions :33.5 x 9 x 11 inches (85 x 23 x 28 cm)
Weight: 10.8 pounds(4.9kg)
Bar Length 18″ (46cm)
Other useful measurements for comparison
Power output: 3.2 HP
Cylinder displacement: 50.2 cc
Maximum power speed: 9600 RPM
Fuel tank volume: 0.95 pint (15.2 fluid ounces)(450 mls)
Power Source
(Back to Top)
The Husqvarna 450 Chainsaw is a traditional gas (petrol) powered chainsaw.
NB for newbies – it is a two cycle (or two stroke) engine which means that the fuel it uses is a mixture of gas and 2 cycle oil!
The power unit for this chainsaw is CARB compliant. CARB is an acronym for Californis Air Resources Board and CARB compliant means the engine meets prescribed low emissions standards, thus minimising (but not entirely eliminating) the machines contribution to air pollution.
Being a gas powered engine, replacing bits and pieces to ensure maximum efficiency comes with the territory!
In this regard the snap lock cylinder cover is a handy time saving design for when you have to change a spark plug. Likewise the quick release air filter feature means you can change the air filter in a jiffy.
Since the fuel tank volume is relatively small, the ability to see the level of fuel still available is a useful feature
The smart start function reduces the effort you have to put into pulling the starter cord (Husqvarna claim by 40%) to start the engine. This will be especially appreciated by weekend warriors who might otherwise wake up on a Monday morning wondering who tried to rip their arm off overnight! 🙂
Along the same lines, Husqvarna's anti vibration technology greatly decreases the amount of vibration that your body is subjected to when using this chainsaw. This allows the occasional user to work longer and wake up with fewer aches and pains the next day.
Take note too that the manual advises that when storing this chainsaw for any length of time, both the fuel and chain oil tanks should be emptied and the spark plug cap removed from the spark plug.
Chain Matters
(Back to Top)
The chain and related mechanisms are arguably the most critical parts of any chainsaw.
Perhaps the stand out feature of this Husqvarna 450 chainsaw then is the tool-less chain tensioning mechanism.
Close behind would come the inertia activated chain brake and the automatic chain oiler.
These features ensure that the chain is kept in the best possible state for effective cutting and longevity and are given the thumbs up by most buyers.
Capabilities
(Back to Top)
As far as actual cutting performance goes, nobody doubts the credentials of this machine to handle just about any job that would come the way of your average householder.
As examples, owners using this saw every other day for odd jobs to one individual who cuts 3 – 4 cords of wood* a year have been very happy with their Husqvarna 450 chainsaws. So as long as you are not planning on cutting down a forest, this chainsaw should do the job for you.
As far as capacity goes, a full gas tank will give you about 40 mins worth of cutting time – more than adequate for most people.
Start her up ……….is this a problem with the 450?
Although the manual leaves a lot to be desired (see below), it is essential that you read the manual for starting instructions or you could have problems starting your new Husqvarna 450 Chainsaw. This has led to some (understandable) unhappiness from first time users.
The biggest gripe overall about the Husqvarna 450 is that it can be hellishly difficult to start – but there are a variety of reasons for that and they are easily enough dealt with.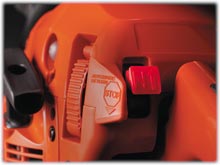 One of these reasons is the potential confusion caused by combining the functions of a start switch, stop switch and choke switch
into a single switch on this machine. This leaves lots of room for getting it wrong when trying to start the machine.So – read the starting instructions CAREFULLY!
You can also make use of the youtube videos that Husqvarna has put up on how to start a chainsaw (see one below)
Another common observation is that after about 2 hrs of working perfectly, the starting problem may rear its head again. This would seem to be solved by having the carburetor adjusted.
Other tips for a quick efficient start include making sure the fuel/oil mixture is correct and that the air filter is clean.
* A cord of wood is one of those wonderfully arbitary measurements that have a (mostly) fascinating historical origin and for some reason has never been updated. Anyway – it's a lot of wood! It measures four feet high by four feet wide by eight feet long (4 ft. x 4 ft. x 8 ft.)
and has a volume of 128 cubic feet (3.62 m3). The actual amount of wood in a cord will vary depending on size of logs, how well they are packed together etc but we can agree that a chainsaw will do a lot of work to produce a single cord of wood!
Warranty & Manual
(Back to Top)
The Husqvarna 450 Chainsaw comes with a 2 Year Parts & Labor Warranty that is subject to the normal legalese about abuse, modified parts etc.
You are able to extend this warranty by either one or two years by purchasing prescribed amounts of Husqvarna 2 stroke oil and premixed fuel AT THE SAME TIME that you buy the chainsaw so that they appear on the same receipt.
In addition to that you need to register your chainsaw online.
Lastly – if you want any of this to work for you in the future – make sure you keep that receipt in a safe place or……well, use your imagination!
The manual for this chainsaw defies description, especially the first part. Pages of numbered diagrams with zero annotation means even if you could read modern day heiroglyphics, you would be hard pressed to make any sense of this.
The numbered drawings actually are referred to throughout the manual but it means you have to page back and forth from instruction to picture and back when trying to follow an instruction on how to do something – very unuser friendly!
Another unwanted and useless feature of the manual is that there are often more big black outlined boxes warning you about something
on a page than actual useful information about the product and how to operate it.
For that sort of information , you will have to scratch around a bit – which is not really the original purpose of a user's manual!
Husqvarna 450 Chainsaw Customer Reviews
If they have got the chainsaw up and running then buyers are generally very happy with the performance of the Husqvarna 450. However, if starting the saw is an issue then obviously those (almost) users are not a happy bunch. Fortunately, as described elsewhere, the starting issue can, in most instances, be overcome by reading the manual + getting the start sequence right.
Judge for yourself – see over 430 customer reviews HERE
Amazon Rating: 4.2
Pros & Cons
(Back to Top)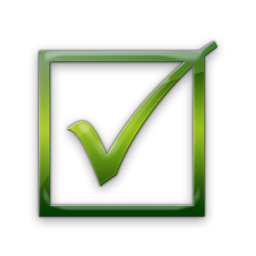 Pros:
Awesome Power
Smart Start Technology
Anti Vibration Mechanism
Tool-less Chain Tensioning System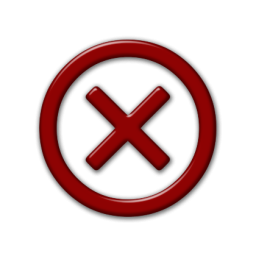 Cons:
Confusing design of the start/stop/choke switch
Resultant starting issues
BUY HERE:


Features/Start Overview:
What about other gas powered chainsaws
Save