Executive Summary
The B & D LCS1240 battery powered chainsaw is a lightweight and efficient cordless chainsaw that is ideal for odd jobs around the house. It's 12 inch bar is ideal for pruning, limbing, trimming and so on but it has the ability to punch above it's weight every now and again when required to. An added attraction is that the battery can be used with other B & D 40 volt battery powered tools.
Check current pricing discounts:


Read the rest of the Black and Decker LCS1240 chainsaw review below:
Tale of the Tape
Dimensions: 9.63 x 8.81 x 28.56 inches (24 x 22 x 73 cm)
weight: 10.4 pounds (4.7 kg)
Bar Length: 12 inches (30cm)
Power Source
The Black and Decker LCS1240 is a cordless chainsaw powered by a 40 Volt, 2 AH MAX Lithium Ion Battery.
The battery charger runs off a 110V supply and takes about 45 minutes to charge. This however might take longer if the battery temperature is high from recent use.
When this happens, one reviewer pops his battery in the freezer to get it to cool faster ! 🙂
A great feature is a state of charge indicator on the battery
which indicates how much charge is left.
Another plus is that the 40-Volt MAX Extended Run Time lithium battery is compatible with other Black and Decker 40-Volt battery powered equipment which are part of the 40V MAX* outdoor system.
NB Marketing Alert – the Black and Decker LCS1240 can be sold with or without the battery and battery charger. So just be careful when comparing prices – the bare tool (i.e.the chainsaw only) will obviously be cheaper.
The big question with any battery powered tool is this. How long can it operate for? This is particularly hard to answer for a chainsaw as it really depends on the nature of the work the chainsaw is doing.
However one user reports using it continuously for 20 minutes. This might not seem very long, but if you think about it – there are not too many instances that you would use this type of chainsaw for anywhere close to that without taking a break to move/stack/tidy.
The chain speed of this saw is a respectable 5m/s (or 984 feet per minute)
Spare Batteries
Black and Decker 40 Volt Lithium Ion batteries are freely available. They come in 1.5Ah, 2Ah and 2.5Ah versions. They are all compatible with the B & D 40V cordless range of outdoor power products.
NB – You will need to buy the battery charger separately
Chain Matters
(Back to Top)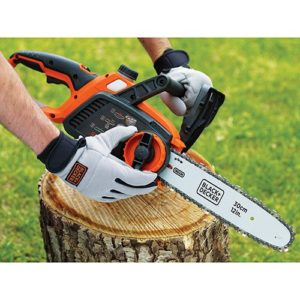 This chainsaw is fitted with a low-kickback Oregon chain, an automatic oiling system as well as a tool-free chain tensioning system.
Essentially this means that the chain should, more or less, take care of itself with only minimal input from you – checking the level of the bar oil and the chain tension – before you can get to work.
To make your life even easier you can check the bar oil level through the convenient window in the oil chamber.
On the downside there are reports of the automatic oiler chewing through the oil as well as some leakage from the oil reservoir.
LCS 1240 Replacement Chains
The Oregon chain that fits this chainsaw is easily replaced and you can find it here.
Capabilities
(Back to Top)
The Black and Decker LCS1240 chainsaw is a lightweight chainsaw with a relatively
short bar – 12 inches (30cm) which is designed for small jobs such as pruning, limbing and trimming.
It can undoubtedly do some of the bigger stuff (within reason) if you are patient – limiting factors being the bar length, chain speed and battery life.
Many users have at least 2 batteries so that one charges while the other is in use – a convenient solution especially if you have other Black and Decker tools that can use the same batteries.
Warranty & Manual
(Back to Top)
Black and Decker has a 3 year warranty for the LCS1240 chainsaw which is a year longer than the LCS1020, the smaller version – strange but true.
As with the LCS1020 and most other manufacturer's warranties, this warranty is limited to defects in materials and workmanship and only covers use in the home environment.
The warranty does not apply to accessories although what is defined as an accessory is not clear.
If you do have a problem and the warranty is valid, then the chainsaw will be either repaired or replaced.
2) The Manual
The manual for the LCS1240 is the same manual as for the LCS1020 which just confirms the similarity between the two.
Unfortunately the manual does not have a contents page so you have to wade through all 17 pages to find what you are looking for.
Interestingly the manual has a table showing the recommended Minimum Wire Size for extension cords but then warns against using an extension cord for charging the battery "unless it is absolutely necessary!"
On the positive side, the illustrations are clear and informative and situated close to the instructions that refer to them which makes following the instructions that much easier.
There is also a concise and basic troubleshooting section at the back that covers the essentials of what could go wrong – useful for those new to chainsaws.
Black and Decker LCS 1240 Chainsaw Customer Reviews
At the time of writing there were just over 620 verified buyer reviews, with an average rating of 4.5 out of 5.
So lots of satisfied customers who are well pleased with their purchase, and by inference, the performance of the Black and Decker LCS1240 40-volt 12 inch Cordless Chainsaw.
You can check out their reviews here.
Amazon Rating: 4.5
Pros & Cons
(Back to Top)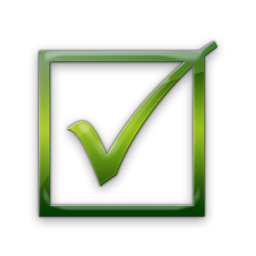 Pros:
Lightweight
Battery operated
Batteries interchangeable
Price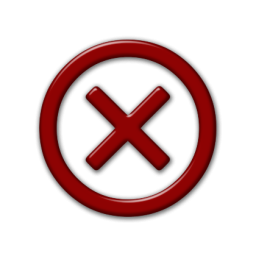 Cons:
High Bar oil usage
Oil leaks
Chain speed
BUY HERE:


Features Overview: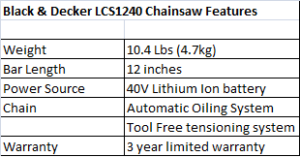 Also, watch this quick video on the features of the B&D LCS1240 40V 12 inch battery powered chainsaw, :
See more cordless chainsaws
Save